Get Your Body Raya-Ready with Nutrilite | Nutrilite
Get Your Body Raya-Ready with Nutrilite | Nutrilite
Food, merriment and family are the hallmarks of every Raya celebration. But with all that fun and indulging comes a price - the heavy meals and sugar-laden treats can take a toll on your energy levels, your skin, and even your waistline.

So be preemptive about your health by boosting your wellbeing with Nutrilite's range of wellness supplements, collagen drink and protein shakes.

If you're not sure where to start, add these 6 Nutrilite products to the top of your list this Hari Raya.
Nutrilite CB Plus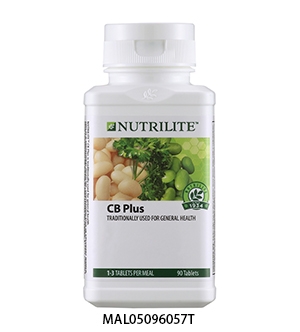 Fit into your favourite kebaya and tap into the goodness of nature with Nutrilite CB Plus. The soft gel capsules contain extracts of soybean and kidney bean that helps reduce the digestion of carbohydrates and aid in weight management.

Scientifically formulated with parsley concentrate and organic products, Nutrilite CB Plus is free from artificial colourants, flavours, and preservatives. Plus, you can rest easy knowing that all the nutrition and wellness products under the Nutrilite brand name sold are certified Halal.
Nutrilite CH Balance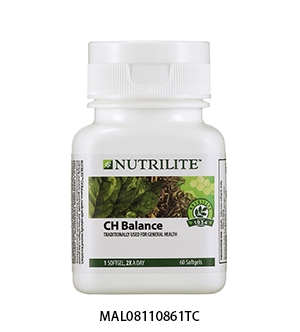 The wonders of green tea have been trumpeted throughout the internet - it helps with weight loss, improves heart health and even reduces cholesterol. But drinking cups and cups of green tea can get boring. After all, variety is the spice of life!

So, keep your days spicy and get your daily dose of green tea goodness with Nutrilite CH Balance instead. Using a patented extraction process, the beneficial compounds of green tea that help improve heart health and lower cholesterol are packed into easy-to-consume soft gel capsules for your improved wellbeing.

Simply take two soft gel capsules a day to maintain your general wellbeing and swap out your green tea for other yummy drinks during buka puasa sessions and open houses.
BodyKey Meal Replacement Shake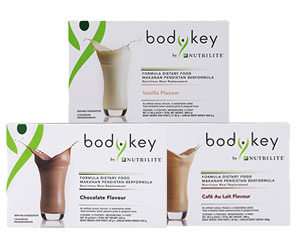 If the scrumptious yet heavy meals are taking a toll on your digestion (and waistline!), lighten things up without sacrificing essential nutrients, fibre, vitamins and minerals with the BodyKey Meal Replacement Shake! The shake is power-packed with one-third of your daily nutritional requirements so you can stay on the go while maintaining your sweet and svelte figure.
Nutrilite Mixed Collagen Peptide Drink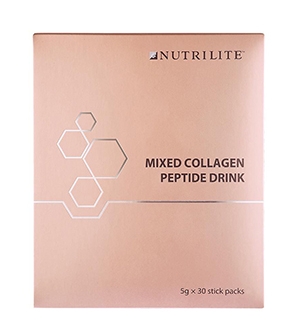 Collagen makes up almost 75% - 80% of your skin's protein, so it's an essential building block for healthy skin. However, with age, the body's natural collagen production decreases and that results in fine lines and sagging skin.

Counter the visible effects of ageing this Raya with Nutrilite Mixed Collagen Peptide Drink. The easy-to-drink sachets contain a dual peptide combo with chrysanthemum extract for a healthy and rejuvenating effect on skin, hair and nails.
Nutrilite Botanical Beverage Mix Acerola with Licorice and Turmeric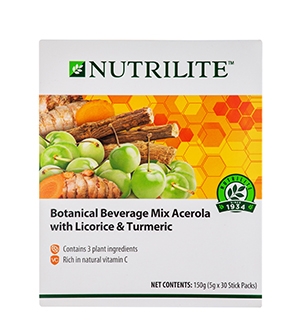 While it's great to meet friends and family, it also important to stay safe and boost your immunity during these troubling times. Get the best of Mother Nature's power-packed herbal and botanical ingredients such as turmeric licorice and acerola cherries with Nutrilite Botanical Beverage Mix!

Enjoy the immunity-boosting benefits of vitamin C derived from acerola cherries, the anti-inflammatory properties of turmeric and the antibacterial properties of licorice in convenient stick sachets even when you're on the go.
Nutrilite Soy Protein Drink
Look your best during Hari Raya celebrations with the help of Nutrilite Soy Protein Drink! Packed with the highest-quality proteins, 9 essential amino acids and calcium from non-GMO sources, this protein drink has all the nutrients that are necessary for glossy, strong hair and healthy skin. Available in a variety of flavours including yummy mixed berries, chocolate and green tea, the Nutrilite Soy Protein Drink also comes in a family size option at 900g.