Pure, Safe & Effective - The Nutrilite Promise
Pure, Safe & Effective - The Nutrilite Promise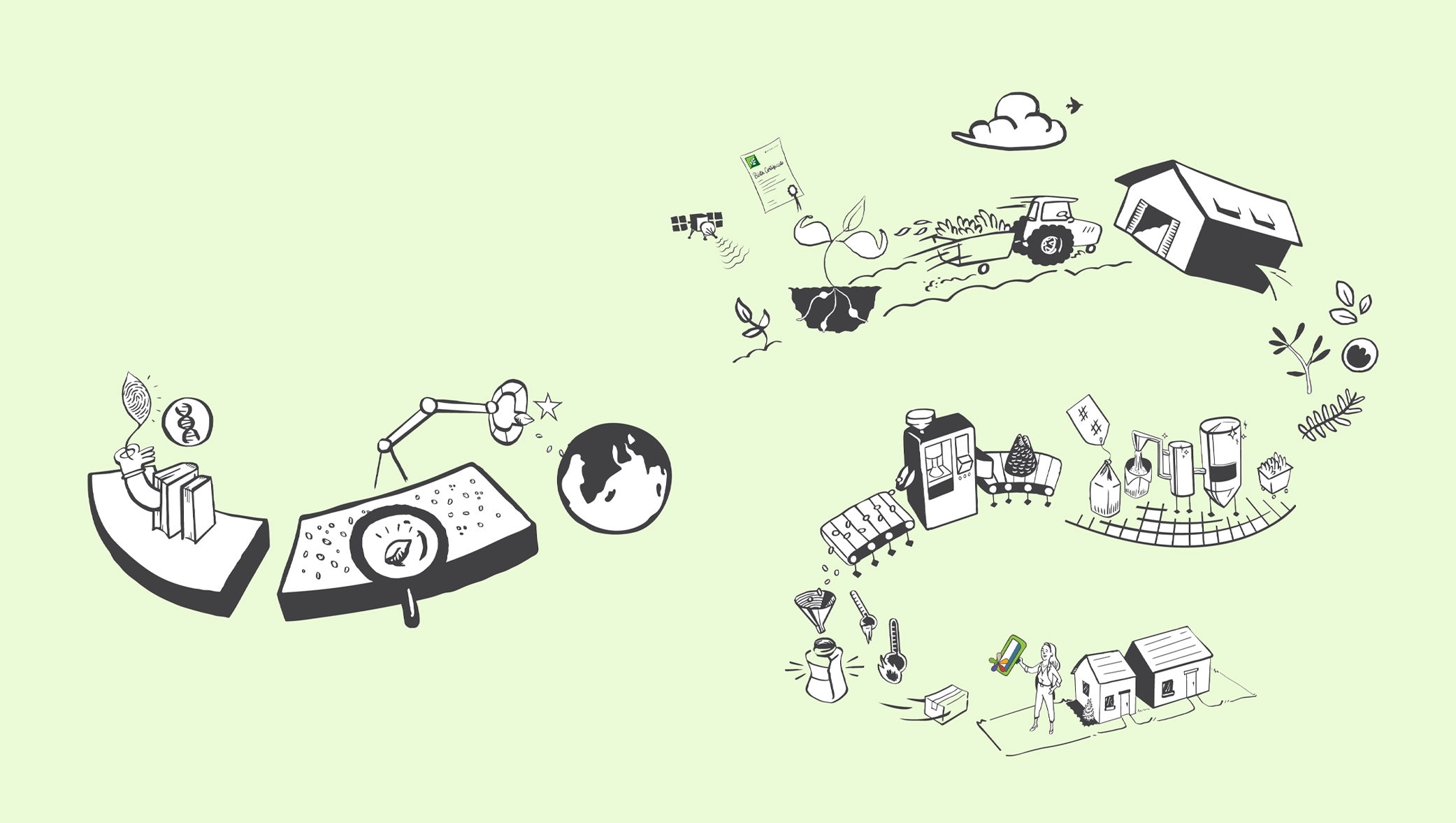 Every year on June 7, we celebrate World Food Safety Day - a day that's dedicated to draw attention and inspire action to help detect, prevent and protect food-borne risks. In today's day and age, with the persistency of the Covid-19 pandemic, it's important to ensure that the foods we feed our bodies are strengthening our immunity rather than harming us.
However, for many of us, food safety is not something we think about often when we consume our meals, supplements and drinks. We depend on food manufacturers, operators and even the government to enforce good practices that keep food safe. Luckily, with Nutrilite, you don't have to worry about the safety of our range of products.
Pure, Safe, and Effective – The Three Traceability Pillars of Nutrilite
Traceability is something we're very passionate about when it comes to our supplements. That's why we ensure that Nutrilite products are tracked and quality checked from the very moment they are planted in our organic farms to the time they are packaged into supplements - that's what seed-to-supplement traceability means to us.
Our traceability process is upheld by three pillars: Purity, Safety and Effectiveness.
Firstly, Nutrilite strives to ensure that our customers receive the most effective supplements possible. Not only is each ingredient standardised to contain a certain % of key nutrients, but we also perform phytochemical fingerprinting for botanical ingredients. On top of that, consistency and supplement stability tests are performed on every product to guarantee the effectiveness of the supplements until the expiration date listed on the bottle.
Next, whether it's at our 6,000-acre organic farms or NutriCert-certified partner farms, it doesn't matter where our ingredients are grown because we trace every step of the process from seed plantation to the time it is handpicked to ensure that the ingredient's purity is never compromised.
This keenness to detail continues in our factories. Nutrilite factories conduct 500,000 quality checks a year and each product is analysed at least 200 times by our in-house, board-certified scientists so you can rest assured that our supplements are safe.
We Are Ridiculously Detailed About Our Supplements
It's no joke. From seed plantations to the falcons who keep the birds from eating our crops, we pay attention to every detail. In fact, we have a 9-step traceability process to give you supplements that are pure, safe, and effective.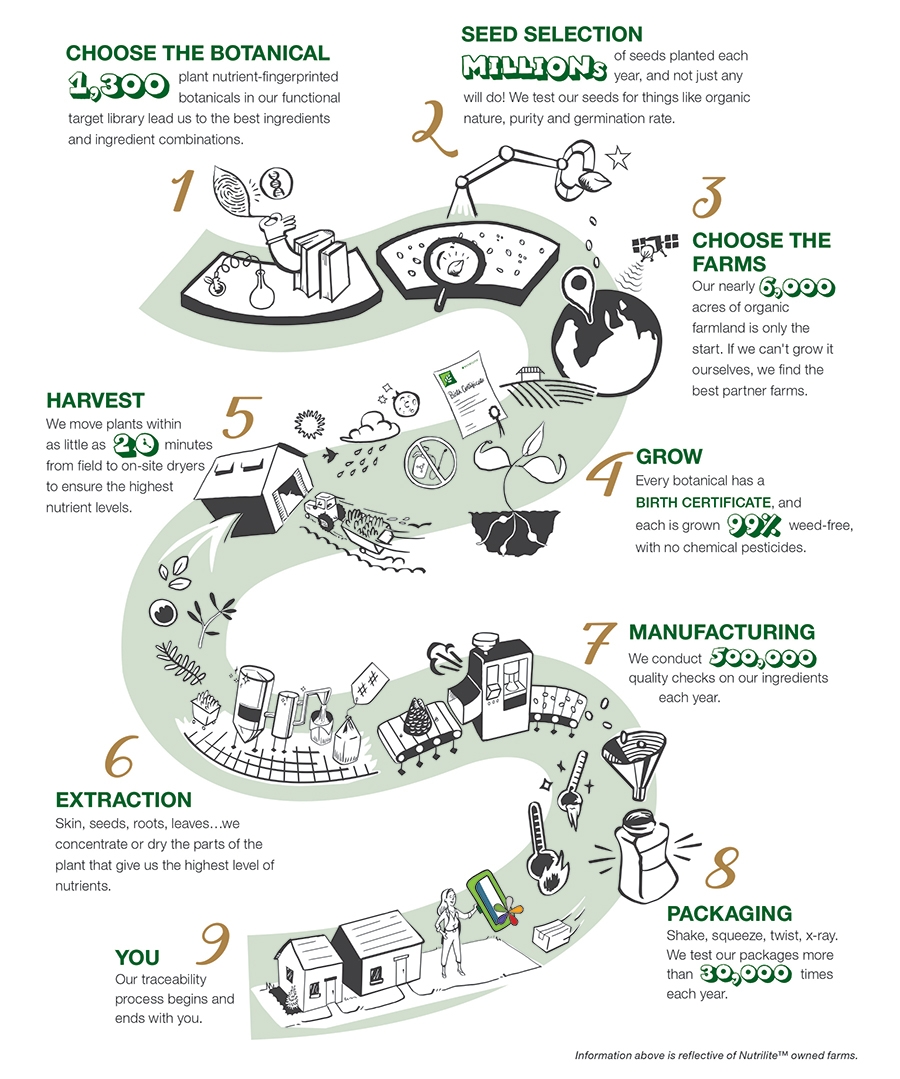 Step 1: Our library of 1,300 plant nutrient-fingerprinted botanicals help us choose the best ingredients and formulations.
Step 2: The seeds we plant are tested for organic nature, purity, and germination rate
Step 3: Seed-to-supplement traceability starts in our 6,000-acre organic farms
Step 4: Every botanical has a birth certificate and is 99% weed-free without chemical pesticides
Step 5: Harvested plants are quickly moved to maintain nutrient integrity
Step 6: Phytonutrients are carefully extracted to give you the optimum level of nutrients
Step 7: The supplements are manufactured under the careful watch of over 500,000 quality checks a year
Step 8: Packaged items are tested more than 30,000 times a year to ensure that supplement quality is not affected.
Step 9: Our transparency starts and ends with you, because we believe that our consumers should be able to know where their ingredients come from every step of the way.
Watch the video here
Smart Choices Start with Nutrilite
With our range of supplements and health products, you can count on Nutrilite to have your back when it comes to purity, safety, and effectiveness. Our transparent traceability processes ensure that you can see where your ingredients come from and feel secure in making smart choices for your family.
Still curious? Learn more about Nutrilite's Seed-To-Supplement Traceability here.